How Lower Mills, Dorchester, Kept Halloween Spooktacular This Year
03:46
Play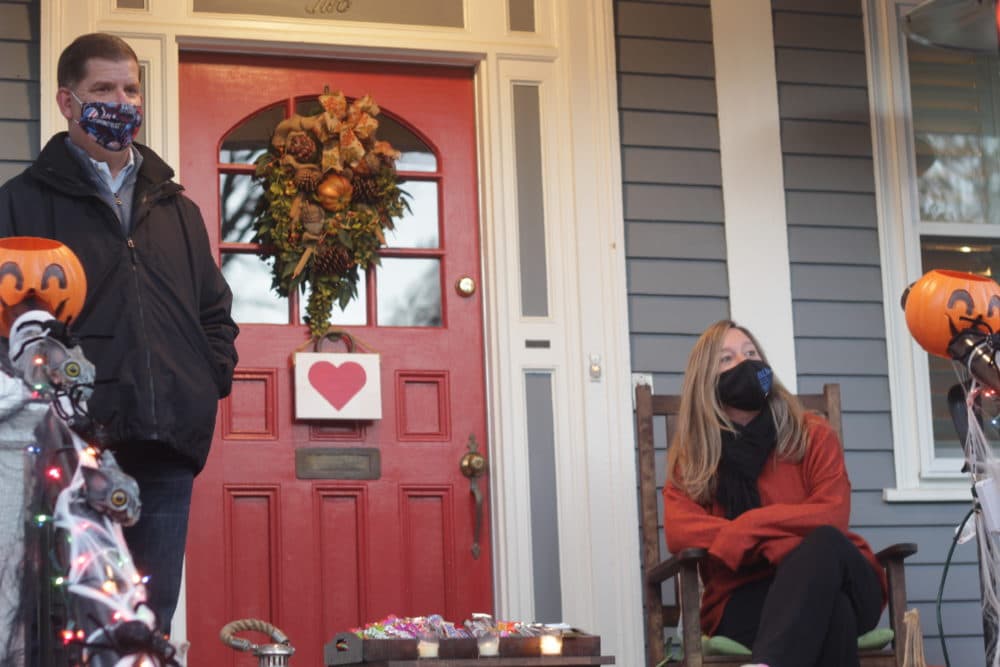 While most Boston streets were quiet last night, Santa, the Grinch, Spider-Man, Pikachu and other enchanting beings flocked to a street in the Lower Mills section of? Dorchester, where they were bound to get candy.
At dusk, awaiting the cadre of characters to descend on his home, Boston Mayor Marty Walsh stood on his porch covered in cobwebs and jack-o-lanterns, ready.
"Just give it time," he said, with large candy bars — Twix, Snickers, Milky Ways, Hershey's chocolate — stacked like gold bricks on a table beside him. "It's still early."
His porch stairs were blocked off at the bottom with yellow caution tape and ominously painted wooden signs reading "stand here."
Soon enough, one of the first trick-or-treaters of the night, nine-year-old Mari Dolan, walked up to the mayor's home.
"It's a lot different," she said. "Everyone's wearing masks and there's not that many people [trick-or-treating]."
What's also different is how the mayor delivered candy this year — through two 8-feet-long PVC chutes.
Dolan said, for the most part, she's "been doing pretty good, actually" during the pandemic.
"But it's still kind of difficult doing school from home and being on the computer all day," she said.
Her mom, Amy, was "nervous" about taking her two kids trick-or-treating, so only opted to get candy from people they personally know and who are doing so safely.
Across the street was another house giving out sweets in a less elaborate way than the mayor, but in a way that took safety precautions: a big bottle of hand sanitizer next to multiple bowls of candy.
"Everyone has been great in terms of social distancing and asking before they take [candy]," said Emily Zimmerman, who just moved in last summer.
She said despite the pandemic, she's been looking forward to this Halloween for months.
"Our landlords told us Halloween is super popular [on this street]," Zimmerman said. "Everyone knows it's a good area for trick-or-treating."
And no one knows that to be true quite like her neighbor Jim O'Malley, who said he's lived in that house for 50 years.
"This little street is overwhelmed with visitors and kids coming, because most of the houses are usually decorated," he said.? "It looks like it might be not as great as the other nights. But they're coming little by little."
And little by little, little princesses and Star Wars Storm Troopers and superheroes and Pokémon came to the street to get candy. But O'Malley, the street's unofficial Halloween historian, said this is the first time he's seen houses dark on the last night of October. One house had a handwritten sign that read "See You Next Year!"
In the middle of comparing this pandemic Halloween to prior ones, one of O'Malley's neighbors walked up to him to give him a coconut — one that fell off of a tree, and not a Mounds chocolate bar.
"I'm getting a coconut they don't want. I don't really like coconut itself, on a muffin or something," he said. "But, crack open this thing and I like it like that."
In a way, he said, the coconut is like his Halloween candy.
Even though this All Hallows Eve didn't have the trappings of Halloweens past, the kids on this street still managed to have a spooktacular time.